BEVEL AND DEBURRING MACHINES TKA 300-0 AND TKA 500-0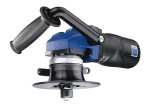 Bevel and Deburring machines TKA 300-0 and TKA 500-0
Perfect edges...straight or round. The new TKA 300-0 and TKA 500-0 set new standards for working on edges. Wether you need perfect visible straight or radiusedges for a workpiece, or just want to quick deburr your workpiece, the TKA300-0 and new TKA 500-0 are the ideal tools.
The innovative tool system lets you work quickly and accurately on mild steel, stainless steel, aluminium and other materials - all in one tool.
  The machine runs quietly and without throwing sparks. There is no discoloration with oxide-free machining.
  The TKA 300-0 and TKA 500-0 are excellent alternatives to angel grinders.
  Possible Applications
  Creating visible edges in systems, tool and machining fabrication
  Removing burrs after cutting
  Uses in structural steel contruction: for example rounding off T-beams
  Chamfering or Deburring sharp edges before painting or coatin
  Industries:
  Tool and mold making
  Fitting and metal construction
  Industrial and container construction
  Machine fabrication
  Automotive
  Shipbuiliding
  Jobshops
  Steel furniture industry
  Technical Data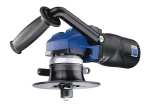 TKA 300-0
TKA 500-0 New!
Voltage
230V
120V
230 V
120V
Maximum slope height / length (45 degrees)
steel plate 400 n / mm2
mm
2.2 / 3
1.7 / 2.4
3.5 / 5
2.8 / 4
steel plate 600 N/mm2
mm
1 / 1.5
0.7 / 1.1
1.7 / 2.5
1.5 / 2.2
steel plate 800 N/mm2
mm
0.7 / 1
0.5 / 0.7
1 / 1.5
0.9 / 1.3
aluminum 250 N/mm2
mm
4.5 / 6
3.4 / 5
7 / 10
6 / 8.5
Minimum plate thickness
mm
0.5
0.5
0.5
0.5
radius
mm
R2 / R3
R2 / R3
R2 / R3
R2 / R3
Minimum turning radius
mm
11
11
11
11
power
W
850
670
1400
1200
weight
kg
2.9
2.9
3.5
3.5