ISO WELDING TORCH MACHINE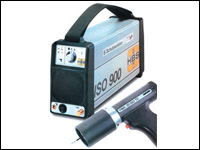 ISO WELDING TORCH MACHINE
Widely used: applied to mount thermal insulation materials especially for architecture.
Simplify processing:No cleaning required as it works no matter how dirty the duct surface maybe.
Time Saving: Possible to weld 20 thermal insulation nails per minute also allowing welding with thermal insulation material in place requiring no cohesive time as with other insulation nail systems.
Material Savings: coiled material can be saved, both thermal insulation material and insulation nails.
Firm and Reliable: nails will not drop after welding and construction with quality being ensured.
No limit for shape: may be used in welding all kinds of ducts. It is extra good for round duct installation.
For all Seasons: The welding quality will not be affected by temperature
Strong points: The speed of operation reduces the time personel have to work above ground thus improving safety.
The standard bation of the nails keeps the surface of the thermal insulation clean after welding.
the Welding torch may also be used as repair tool to repair peeled and exposed duct when cohesive nail has dropped.