TRANS-VERSE FLANGE FUNCTION SYSTEM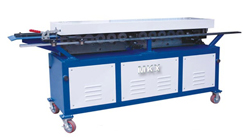 TDF unit is one of the two universal flange making systems in the world, with low cost, wel-seal and easy-fabrication, specially suitable to produce a duct with medium section area and applied in large-scale industrial manufacture. As a flexable machine, TDF will adapt to an auto line with a Pittsburgh lock machine, notcher and bending machine. It may also be used on site.
Patent product number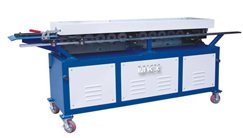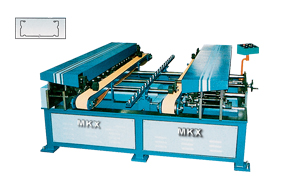 TDF system is divided into three types: T-12、T-15、duplex machine T-150D. T-12, T-15 form one side into clip"

", and the other side into flange "

"at the same time, and duplex machine T-15D forms both sides contemporary into a flange"

", TDF may be commonly used for its width ranges from 300 to 1530mm. Its maximum work speed is 6 m/min.
The equipment is a late-model machine developed to process plug-in & joint flanges on the basis of the former T-12 TDF flange former.The equipment is a new multi-functional product,which can process plug-in & joint flanges except having the function of processing TDF flange.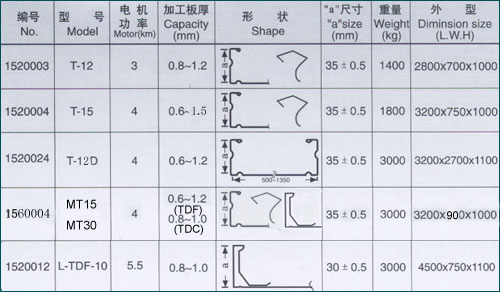 TDF of MKX may produce both transverse duct snap flange and the corresponding duct corner. The technical data of T-12DC and T-15DC is listed bellow:

FABRICATION AND INSTALLATION
Common plate flange bending machine

This manual folding machine adopts eccentric clamping structure, easy to operate. This machine is specially designed for the flange flanging also do ordinary folding machine for use, multi use of one machine, has the advantages of light weight, convenient to move, pressure angle angle, etc., especially suitable for factory and site and use, ventilation pipe device of choice.
| | | | | | |
| --- | --- | --- | --- | --- | --- |
| NAME | Model | Thickness | Length | diminsion | weight |
| Flange flanging | WS 1.5*1500TDF | 1.5 | 1500 | 2130*820*1370 | 480 |
| bending machine | WS1.5*2000TDF | 1.5 | 2000 | 2800*820*1370 | 700 |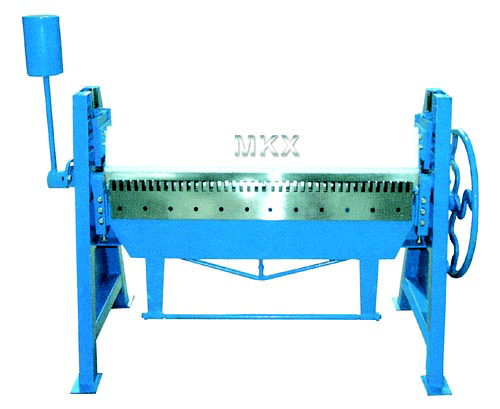 Pneumatic plate folding machine
This machine adopts pneumatic is company specifically for flange bending and design, greatly reduce the labor intensity, improve the production efficiency, is a total of flange bending device of choice, customers only need to prepare a pump can be used, the machine has the advantages of simple operation, convenient to move.
| | | | | | |
| --- | --- | --- | --- | --- | --- |
| NAME | Model | Thickness | Length | diminsion | weight |
| Pneumatic plate folding machine | WA 1.5*2000TDF | 1.5 | 2000 | 2800*850*1200 | 800 |