HIGH CONFIGURATION PLASMA CUTTING MACHINE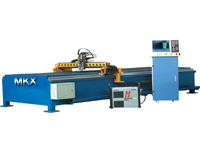 HIGH CONFIGURATION PLASMA CUTTING MACHINE

Kathy source plasma cutting machine is on the basis of the absorption of advanced technologies at home and abroad according to the needs of the market developed, according to the configuration can be divided into two kinds: MKX Vulcan - 4100 and MKX Vulcan -5100. It mainly includes the host computer control system and the special software system. Electrical control system using full computer control, cutting the set of material software has a universal sheet metal cutting system FASTCAM and special shaped wind pipe material set of special software SMARTCAM. Its main properties are as follows: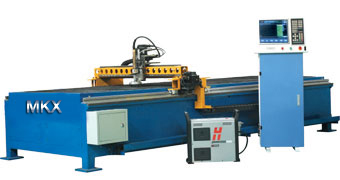 Host control system
Frame is made of welded steel structure, the aging vibrator, eliminate stress and increased the stability of the frame, deformation quantity is small. The X axis uses the high precision straight line circular guide rail, the Y axis uses the high precision linear guide rail, its running resistance is small. X axis and the Y axis is installed with multifunctional instrument detection equipment, the X axis straightness error which is less than 0.05mm, the X axis and the Y axis vertical error is not more than + 0.05 degrees, the car running with light structure, easy to ensure the machining quality of plasma cutting. Industrial computer operating system is in the stable performance of the DOS system operation, has a good man-machine conversation interface, Chinese and English language can be arbitrary conversion. X axis and Y axis running speed can reach 8 m / min. Industrial control computer can interface ISO standard CNC language, you can display the cutting graphics, simulation cutting, and has the function of manual programming.
Two, the characteristics of the host control system of plasma cutting machine
1: drive transmission system
MKX-4100 and MKX-5100 are used in Japan MITSUBISHI (MITSUBISHI) Company Digital AC servo system, using high magnetic rare earth materials, magnetic heat dissipation performance is good. Its encoder resolution is high, for the common type 4 times function, thus guaranteed the higher control precision.
2: high performance tuning system
The cutting gun has a floating device, which can automatically adjust the height and the height change of the plate material, and the distance between the cutting gun and the plate is constant. Therefore, the cutting effect can be guaranteed.
3: safe and durable gas path system
Unloading material and the cutting gun under a floating stability of pneumatic valve to discharging is convenient and reliable, and the cutting gun is stable and reliable.
Integrated industrial control machine with stable performance of 4:
MKX automatic plasma cutting system consists of upper and lower machine: PC using Dell LCD and 2.4GHz Intel Petium IV CPU; lower computer adopts Mitsubishi servo motor and high resolution liquid crystal display, and distribution to the corresponding industrial control system. Between the host computer and the slave computer, the data exchange is realized through the advanced communication system and the typesetting software.
5: plasma generator
MKX-4100 MKX-5100 are used the world famous companies in the United States Hypertherm plasma generator, its stable performance, good working condition, ensure the quality of cutting
Three, the United States Casey source plasma cutting software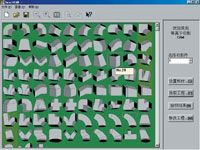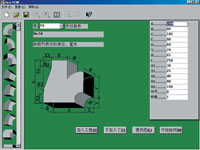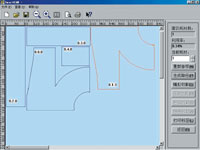 Four, Spain LANTEK sheet metal cutting software